Financing

No Money Down

No Payments for 30 Days

Up to $15,000 Instant Credit

Up to One Year to Pay
Get a real-time credit decision online by answering just a few quick questions allowing PayBright to identify you.

PayBright gives you the option of payments over six, nine or twelve months. Your monthly payments are conveniently billed to your bank account or credit card.

What is a PayBright payment plan?
The Paybright plans allow you to break down the cost of an expensive purchase into a series of affordable monthly or bi-weekly installments. This allows you to complete your purchase with confidence.
What are the interest rates on PayBright payment plans?
Interest rates typically start from 7.95% and the exact rate depends on the quality of your credit. The large majority of customers pay less than typical credit card interest rates. Our goal is to provide financing options for as many applicants as possible – and always to provide an affordable monthly payment!
There is a small monthly processing fee with each payment. We don't charge any other service fees, prepayment fees, or any other hidden fees. We seek to have the highest standards of transparency so that charges are always fully clear to our customers. The exact APR (Annual Percentage Rate) that applies to your transaction will be calculated and shown to you before you finalize your transaction.
Does PayBright check my credit?
Yes. When you apply, PayBright will conduct an instant credit check with a credit bureau in order to verify your identity and determine your eligibility for a payment plan.
How do I access my account?
You can log in to the PayBright customer portal here. Your login details are in the confirmation email we sent you when you first completed your transaction. If you can't find your login details, please contact us.
Can I prepay my outstanding balance?
If I have questions about my account, do I contact Allstyle or PayBright?
Please contact PayBright directly. Allstyle does not have access to all the details of your account due to security and privacy policy compliance.
What if I want to change my order, return my purchase or get a refund?
Contact Allstyle directly to arrange changes, returns or request refunds. Returns and refunds are subject to the return and refund policies of Allstyle. PayBright will process a refund if directed to do so by Allstyle. You can read more about PayBright's refund policy in their Terms & Conditions.
Is my personal information secure with PayBright?
Yes, protecting your personal information is very important to us. Sensitive data is encrypted. PayBright maintains physical, electronic, and other safeguards to protect your information. Your information will not be sold to anyone. You can read PayBright's detailed Privacy Statement here.
How do I apply for financing?
For e-commerce transactions, the Paybright application is integrated into Allstyle's online checkout process where you can select PayBright as your payment option.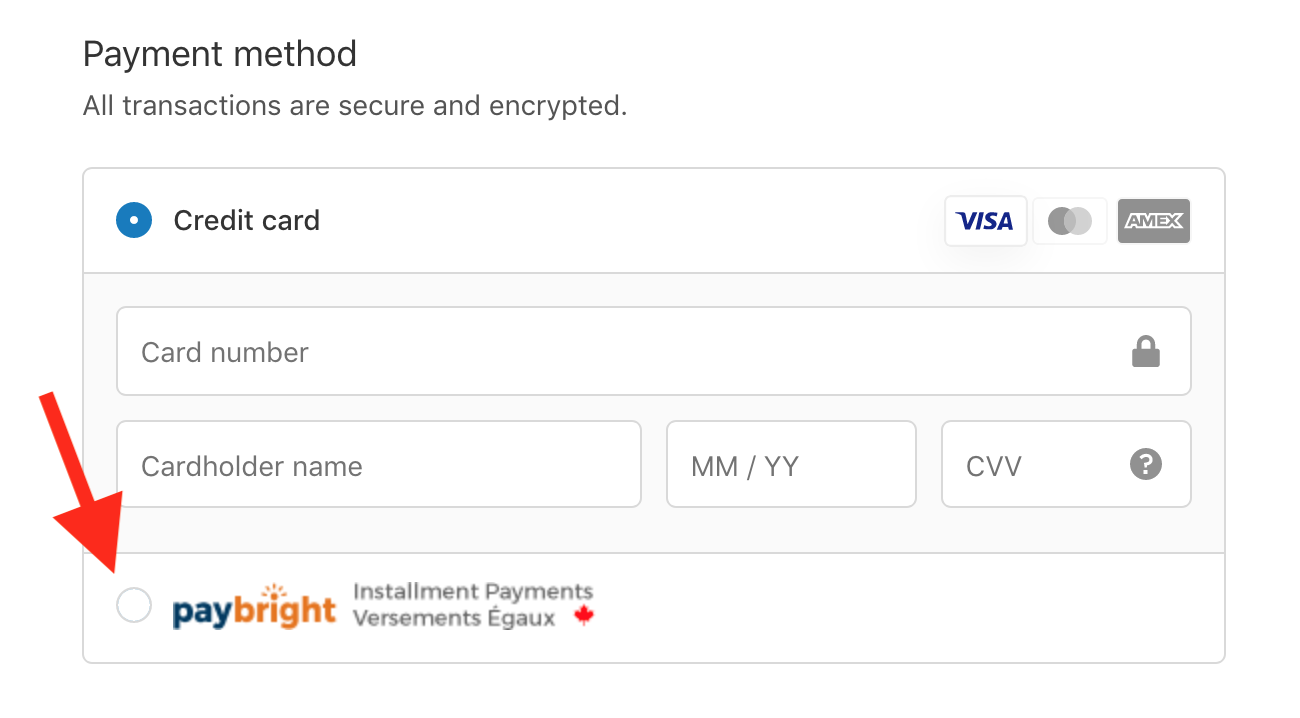 For in-store transactions, you can pre-apply on PayBright's website here: Apply Now
What is the minimum purchase amount that I can finance?
For e-commerce transactions, PayBright will fund as little as $100.
For in-store transactions, PayBright will fund as little as $300.
How quickly do I need to use my approved credit?
Your credit approval can be used for up to 365 days. You can fund multiple purchases over time with your credit approval. After 365 days, a new application is required.
How do I complete the transaction?
For e-commerce transactions, your entire transaction is completed as part of the checkout process on our website.
To complete in-store transactions, please bring a piece of photo ID when you visit us. Examples include a Drivers Licence, Passport, Permanent Resident Card, or other government-issued ID. Please note that we cannot accept health cards as photo ID.
Which payment plan terms are available?
You may choose a payment plan of 6 months, 9 months or 12 months.
How do I know what my monthly payment will be?
Can PayBright funding be used to pay for only part of a purchase?
For e-commerce transactions, the entire order will be funded by PayBright.
For in-store transactions, you can fund any portion of a purchase through PayBright. If you are using cash, debit, or credit card to pay for part of a purchase, you can fund the remainder with PayBright – just as long as the funded amount is at least $300.
Does PayBright allow co-signers?
Co-signers are available for in-store transactions. If you need more funds that PayBright can grant you on your own, a co-signer is a great way to get access to a higher credit limit.
How do I make my payments?
For e-commerce transactions, your payments will be set up as convenient pre-authorized payments on your credit card.
For in-store transactions, your payments will be pre-authorized payments from either your chequing account or credit card.